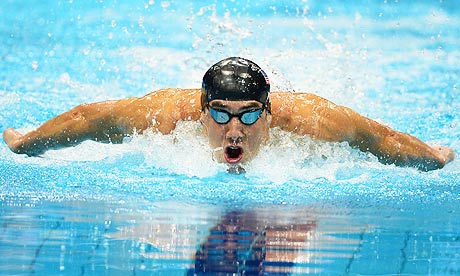 Last night this guy swam his last race. He won a gold medal for it. He added that medal to his 21 other Olympic medals, the most any person has ever had.....ever. But if you go back to one week ago, there was a lot of concern on whether or not Phelps could really compete in these Olympics, and in fact, finish his career well. He got off to a pretty rough start in the 400IM. The talk was all about his rivalry with Ryan Lochte, and how close those two would be in both IM's. So, when they got in the pool, it was expected that they would finish 1-2. But they didn't. That night Lochte beat Phelps.....and so did two other swimmers. It was the first time in 12 years that Phelps entered a race and left with out a medal. Unheard of for the guy who swam 8 for 8 in Beijing breaking all sorts of records. He had not started these games off well. Then it got worse. In one of his specialty events, the 200 butterfly, Phelps who was the favorite, walked away with a silver, as new comer Chad Le Clos beat him out. Things were not looking good for Phelps in London, and I am sure many thought that his career, which had been so stellar over the last 12 years, might not end on a high note. But something happened after he anchored the 4x200 freestyle relay, and earned his first gold of the games. I am not sure what exactly, but he came back to win three more, one for each race he swam. The old Phelps was back, and he had ended well.
Well, I am certainly no Olympic swimmer, but have learned a little from these games. Sometimes I start off pretty shaky.

Instead of dealing kindly with my children, I snap or yell. Instead of starting my day in God's word, I start on FB. Instead of starting my conversations with words seasoned with salt, I start with gossip, or self-centered meaninglessness.
I too can get off to many a rocky start. But God is teaching me that rocky starts are okay. His grace is sufficient to not only cover my sin and ugliness at the start, but to help me finish well. Finish disciplining well, finish my day well, finish my conversations well. I can't do it on my own, but He has given me all that I need for life and godliness. So while I need to keep in mind the end goal of this lifetime (to finish well a life that glorifies God), I know that begins with the daily, moment to moment life I live. I almost always get off to a rough start at something, but because of the gospel and it's fullness to not only save me but to sanctify me, I can rely on the Spirit to help me finish well.
You see....this morning, no one is talking about Phelps' loss in the 400 IM, or 200 Fly (or any of his other losses over the years). They are talking about the greatest Olympian to ever live. They are talking about 22 Olympic medals, countless world records, and a sport that has been forever changed because he was in it.
My prayer would be that my family, friends and all those around me, might see at the end of my days, and ultimately at the end of my life, the greatest one to ever live. Not me, but Christ who lives in me, and that as He lives in me, they would see some rocky starts that He enabled me to finish well. That starts in the moment with some prayer and some humility. "Lord, I yelled at the girls, this is not going well...help me to finish well." " Lord, I haven't had time with you yet today but I know I need it, help me to finish well." "Lord, I am gossiping, please forgive me, and help me to finish this conversation well." Little by little, one race at a time, He can live His legacy through me, so that all would ultimately see His greatness, and how His life has forever changed all eternity!